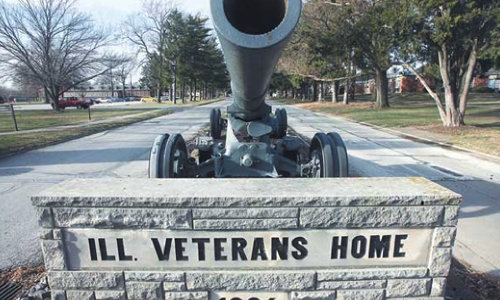 One of our nation's largest & oldest veterans homes.
"The city within the city" due to its size and unique set-up, there are 25+ buildings totaling one million square feet and 210 acres. The facility is equipped with its own post office, bank, assembly hall, guest house, chapel, cemetery, lake, animal park, museum, and military-related historical sites.
Dedicated in 1886, the All Wars Museum hosts 10,000+ military artifacts.
The onsite deer park and cafe on the grounds are family favorites.
Medal of Honor Action Mural
Artist: Robert Craig
(inside All Wars Museum at IL Veterans Home)
—
Off the Record:
On August 3, 1862, dressed in men's clothing, Jennie walked into the recruiting office to volunteer for service in the U.S. Civil War. She walked out of the office as Albert Cashier. The physical exam inducting men into the Army consisted of nothing more than a tap or two to the chest, with a quick look in the eyes and ears. No undressing, not even stripping to the waist. She was assigned to the 95th IL infantry regiment. From that day forward, Jennie Hodgers was no more.
In 1911, Albert Cashier was moved to the Soldier and Sailors Home (now the IL Veterans Home) in Quincy. He lived there as a man until his mind deteriorated and authorities committed him to Watertown State Hospital for the Insane in 1913. Attendants there discovered that he was female-bodied when giving him a bath, at which point he was forced to wear a dress. Albert would pin his dress between his legs in order to make "pants".
Hours
Museum hours of operation are Tuesday through Saturday from 9:00 a.m. to 12:00 p.m. and from 1:00 p.m. to 4:00 p.m. On Sundays, the museum is open 1:00 p.m. to 4:00 p.m. The museum will be closed on Mondays. The Museum Season is March 1st through the Wednesday prior to Thanksgiving.